Un Poco Loco and MOHS
12 Octobre 2019 - 20h30
AMR, Rue des Alpes 10, 1201 Genève
Mohs was founded with the desire of trumpeter Zacharie Ksyk and guitarist Erwan Valazza, two artists regularly invited both on the international jazz and current music scenes, to create their own universe. Surrounded by talented Gaspard Colin on double bass and Nathan Vanderbuckle on drums, the two artists take part in an experimental process in order to shape their own sound, inspired by their musical and human experiences. Referring as much to Shai Maestro or Bon Iver as to Philip Glass, these four improvisers with minimalist aesthetics offer an organic and ethereal sound, which mixes electronic and acoustic sonorities, filtered through the prism of improvisation. This tasty mix creates an unexpected music, that is one of a kind.
Zacharie Ksyk: trumpet/effects
Erwan Valazza: guitar/electronic
Gaspard Colin: bass/effects
Nathan Vendenbuckle: drums/electronic
Un Poco Loco is the reinterpretation by three young French improvisers of the great hours of jazz history. With respect and fantasy, the trio seizes unexpected or little known themes to elaborate a sophisticated work on sound and dramaturgy, mixing their today's musicians language to the traditional vocabulary. Founded in 2014 by Fidel Fourneyron, trombone player of the Orchestre National de Jazz, Un Poco Loco already has two albums and soon a hundred concerts to its credit.
Fidel FOURNEYRON: trombone
Hughes MAYOT: saxophone ténor, clarinette
Sébastien BELIAH: contrebasse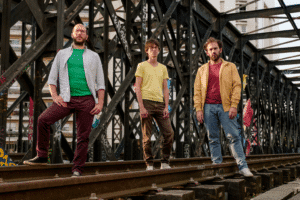 Coproduction : AMR-JazzContreBand