Event cancelled
This event is cancelled due to access restrictions at Centre des Arts.
However the Swiss Slide Quartet is giving an alternative concert, same day, same hour but at Espace Fusterie : Swiss Made.
Planète Bleue is a suite in ten movements by Genevan composer Alexandre Mastrangelo, premiered in 2019 in Sion. It sets to music the difficult relationship between human beings (the quartet of solo trombones) and planet Earth (the orchestra) which welcomes them. A subject that has never been more relevant. The work also highlights the youth as this year, a set of student trombonists from the conservatories of Greater Geneva have been invited to participate in this cover. Generational inheritance, ecology, hope: all on the program of this 21st century musical tale!
Programme
Alexandre Mastrangelo (Suisse)
"Planète bleue", suite pour quatuor de trombones et ensemble (2018)
Artistes
SWISS SLIDE QUARTET is a Swiss trombone quartet which aims to introduce and share the original works composed for this performance with a large audience. Their repertoire is varied and extends from the Renaissance to today, harmonizing and traveling through all styles. The ensemble has a particular concert in store for all audiences which takes them on a playful journey through the evolution of the instrument and its repertoire.
Guillaume Copt – trombone
Fabien Dumonteil – trombone
Alexandre Mastrangelo – trombone

Vincent Métrailler – trombone
ÉLÈVES DES CLASSES DE TROMBONE DU GRAND GENÈVE, student trombonists from the Geneva Music Conservatories (CPMDT and CMG), the Ondine Genevoise, the École de musique de Carouge, and the Conservatoire d'Annemasse.
FANFARIBOLE of the Conservatoire cantonal de musique de Sion is an original ensemble created in 2010 by its conductor, the Valaisian trombonist Pascal Emonet. The workforce is built on the basis of a harmony orchestra, enriched with stringed, accordion, and percussion instruments. This original instrumentation offers a multitude of possibilities in terms of creation. The orders constitute the main part of the repertoire of the ensemble which presented its 10th creation, "Les Voi(x)es du désir" by Michel Godard for its tenth anniversary.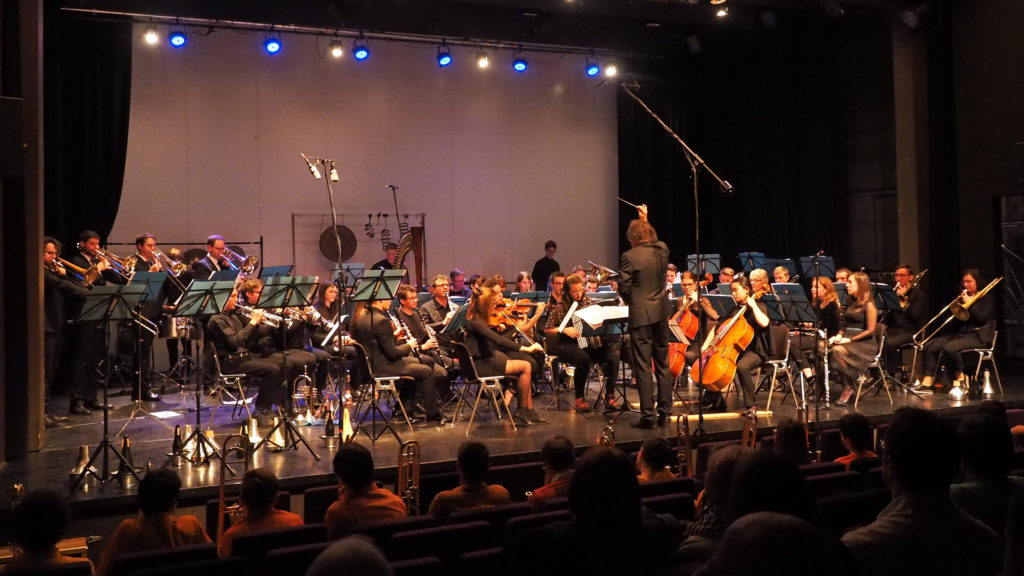 Alexandre Mastrangelo was born in Geneva in 1989. He began playing trombone at the age of 11 and subsequently obtained his Bachelor's Degree in 2012 at the Haute Ecole de Musique de Genève (Neuchâtel site), in the class of Jacques Mauger, and his Master's Degree in Musical Pedagogics in 2015 at the Hochschule der Künste Bern. He is currently pursuing a Master's Degree in Specialized Music Performance (orchestral orientation) at the Zürcher Hochschule der Künste, in the class of David Bruchez.
For the past ten years or so, Alexandre has regularly played in professional ensembles in French-speaking Switzerland and abroad, such as the Orchestre de Chambre de Genève, the Geneva Camerata, the Orchestre de Chambre de Lausanne, the Ensemble Intercontemporain. He was an student in various orchestras in Switzerland and was a member of various youth academies (Verbier Festival, Lucerne Festival, Schleswig Holstein Musik Festival).
He has always been passionate about composition and has written several works, some of which have been performed in Switzerland, France, Germany, Bulgaria, and the United States. He studied under Xavier Dayer at the Hochschule der Künste Bern and under Michael Jarell at the Geneva University of Music. In 2013, he won second prize at the "Artistes en Herbe" composition competition in Luxembourg. He regularly receives orders for composition and arrangements, notably for the Conservatoire de Sion, the Swiss Bulgarian Association for Culture, the International Trombone Festival, the Orchestre des Trois-Chênes… He has just returned from a Brazilian tour during which he was able to participate in the creation of his piece for the Orchestre d'Harmonie de l'état de Genève and is currently working on the composition of a new piece for the Orchestre du Collège de Genève.
His search for a musical language led him to discover an interest in different currents and great composers of the 20th century, he describes it in these words:
"From a style point of view, I try to develop a language that is relatively easy to access, based on worked harmonies, and a constant search for timbre. Each composition is a pretext for a stylistic renewal, both from the point of view of the workforce and of the writing itself. Influenced at first by Shostakovich and Stravinsky, then Schoenberg, Berg and Ligeti thereafter, I am now trying to synthesize various elements of these composers in order to create a style and a way of writing that is unique to me. However, I remain quite far from very "contemporary" writing."