It's been 10 years already! To celebrate, the Geneva Brass Festival has joined forces with another Geneva entity, the Ensemble Vide, which is also celebrating its ten years of activity within the ARCOOP building. For the occasion, the Geneva Brass Quintet, back at the GBF, will share the spotlight with the oboe ensemble Many Many Oboes and the string quintet Valéik. The GBQ will notably accompany a young talented trumpet soloist Simon Höfele. 17th century music and contemporary creation will resonate with the sublime acoustics of the ARCOOP industrial building in a harmony open to all audiences.
Notice : due to travel restrictions between Germany and the Canton of Geneva, Simon Höfele won't be able to play at this concert. Instead, the Geneva Brass Quintet will play the brand new piece of the Geneva-born composer Alexandre Mastrangelo : 10 Miniatures.
Programme
Giovanni Gabrieli
Canzon in Echo et Canzoni 27 e 28 (autour de 1600), arrangement pour cuivres et hautbois
Alexandre Mastrangelo
10 Miniatures (2020), pour quintette de cuivres
Henry Purcell
Funeral of Queen Mary, March (1695), pour cuivres et percussion
Ariadna Alsina Tarrés
Oikos (2020), pour cinq hautbois, cinq cordes et électronique (création mondiale)
Matthias Arter
Klangkugel (2020), pour cinq hautbois
Richard Barrett
Khasma (2001), pour quintette à cordes et électronique
Artists
Simon Höfele (trumpet) and the Geneva Brass Quintet (brass quintet)
Many Many Oboes (oboe quintet)
Ensemble Valéik (string quintet)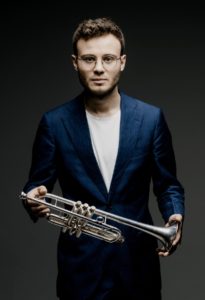 Simon Höfele, 25, is one of the most exciting trumpeters of the up-and-coming generation. He is BBC Radio3 new generation artist, Rising Star of the European Concert Hall Organisation (ECHO) 2019-20, nominated by Philharmonie Cologne, Konzerthaus Dortmund and Elbphilharmonie Hamburg and "Junger Wilder" at Konzerthaus Dortmund.
He has already made his solo debut with such orchestras as the Royal Concertgebouw Orchestra, BBC Philharmonic, BBC National Orchestra of Wales, Ulster Orchestra, Shanghai Philharmonic, Rundfunk-Sinfonieorchester Berlin, Konzerthausorchester Berlin, SWR Symphonieorchester, MDR Sinfonieorchester, NDR Radiophilharmonie, Deutsche Radio Philharmonie, Mahler Chamber Orchestra, Münchener Kammerorchester and Deutsche Kammerphilharmonie Bremen also at Wigmore Hall London, Tonhalle Zürich, Konzerthaus Wien, Bozar Brussels, Elbphilharmonie, Konzerthaus Berlin, Prinzregententheater and Gasteig München and important festivals such as Cheltenham Music Festival, Festival de Radio France et Montpellier, MiTo in Milano and Torino, Schleswig-Holstein Musikfestival, Rheingau Musik Festival and many others.
In addition to well-known trumpet repertoire ranging from Telemann, Tartini, Haydn, Hummel and Mozart to Jolivet, Arutjunjan and Zimmermann, Simon Höfele also frequently performs contemporary music. He gave the first performance of Pintscher's double concerto for two trumpets and orchestra ("Chute d'étoiles", 2012) and premiered works of Mark Simpson, Kaan Bulak, Nina Šenk a.o.
Simon Höfele also plays chamber music of every variety with great enthusiasm. His partners include the pianists Frank Dupree, Eriko Takezawa and Kärt Ruubel.
Alongside his musical projects, Simon Höfele is also active in cultural politics, and has founded the association "Kunstverlust", for which he, as a photographer, portrays people who work to support art and prevent its destruction.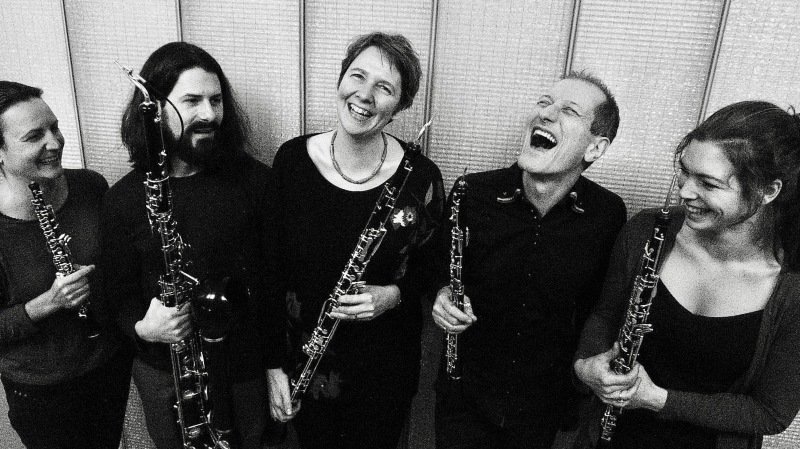 Many Many Oboes is a quintet of oboists who are highly committed to contemporary music, multidisciplinary creation, as well as the influence and development of their instrument. The ensemble is dedicated to the oboe's creation as well as progress in today's music. The musicians perform on seven different instruments of the oboe family: piccolo oboe, oboe, oboe d'amore, English horn, bass oboe, lupophon, and baroque oboe. Many Many Oboes stimulates the writing and creation for the oboe among composers. The quintet explores a repertoire of composers including Jane Mary Leach, Violetta Dinescu, Bruno Maderna, Heinz Holliger, Matthias Arter, and Vinko Globokar, as well as premieres of planned works by Barblina Meierhans, Daniel Glaus, and Ariadna Alsina. In 2019-2020, Many Many Oboes toured with 6 concerts, 3 creations, 1 workshop for composers, and a conference podium with Heinz Holliger. In addition to presenting a rich and unique artistic content, Many Many Oboes aims to demonstrate and explore the possibilities of the oboe, an instrument that is still often overlooked, to showcase little-known instruments such as the musette, the bass oboe, or the lupophon, and to boost to young composers by facilitating access to performers.
Valentine Collet, Béatrice Zawodnik, Béatrice Laplante, Martin Bliggenstorfer, Matthias Arter – oboe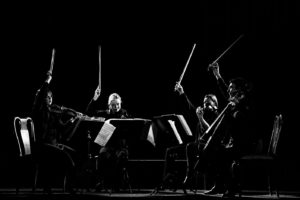 Founded in 2016 at the instigation of the violist Élise Lehec, the ENSEMBLE VALÉIK is a group of young professionals from the Valais region of the Haute École de Musique de Lausanne and eager to pursue a musical activity in Valais. Based in Monthey, the ensemble is sponsored by the artist sculptor Édouard Faro and has forged an identity with strong collaborations in the Valais cultural landscape: Kaori Ito, Stéphanie Gurga, Yannick Barman, Roland Vouilloz… It offers a vast repertoire ranging from baroque music to rap-beatbox.
Maria Ten et Leonid Baranov – violons, Elise Lehec – alto, Jonas Bouaniche – violoncelle, Bastien Monnet – contrebasse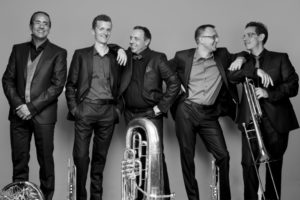 Like the famous Swiss army knife, the Geneva Brass Quintet is a multi-purpose, multi-talented chamber music group. Its marvellously warm sound is equally good when sharply rendering a Bach fugue as when sweetly murmuring a Cosma ballad or a traditional Alphorn melody. The Quintet can be both powerful, when playing alongside an organ, big band or wind section, and full of sweetness, when accompanying a choir, panpipes or even a harp. The ensemble also likes to join forces with other disciplines, such as history or science, and children are not forgotten: two shows have already been created especially for them.
The Geneva Brass Quintet is an ardent supporter of Swiss culture and regularly includes works by Swiss composers in its programmes, such as Richard Dubugnon, Jean-François Michel, Étienne Crausaz or Daniel Schnyder. It regularly commissions new pieces to expand its repertoire.
The ensemble wishes to present this original repertoire during its frequent international tours, thus positioning itself as one of the leading Swiss ambassadors of chamber music for brass. In particular, it has been invited to the Cervantino Festival (Mexico), to SliderAsia (Hong Kong), Jeju International Wind Ensemble Festival (South Korea) and to the Brassurround Festival (Spain).
At ease in all fields, the quintet has performed in all sorts of circumstances: on a boat on the underground lake of Saint-Léonard, with their feet in the water at the Bains des Pâquis in Geneva, in shanty towns in South Africa and on the Great Wall of China, but they have also performed in the world's most beautiful concert halls, such as Geneva's Victoria Hall.
Created in 2001, all the Geneva Brass Quintet's musicians hold master's degrees from the Geneva University of Music. They participate in the organisation of the Geneva Brass Festival, an international event dedicated to brass which has taken place in Geneva every year since 2010. Regularly invited to Espace 2 radio station's Schubertiade, the Quintet has recorded three discs which reflect its character: eclectic. These have been very well received by the critics.
Baptiste Berlaud et Lionel Walter – trumpet, Christophe Sturzenegger – horn, David Rey – trombone, Éric Rey – tuba
Coproduction
Realized together with the platform Ensemble Vide
Access
Tram 15: arrêt Pictet-Thellusson. Il y a un passage piéton entre la banque (Pictet) et le bâtiment voisin qui vous permet de rejoindre très rapidement la rue des Noirettes.
Parking : P+R Etoile